Build your own oil cooler
Select your cooler type from the drop down menus below to build your own Laminova cooler system.
This guide will build an oil cooler from our standard parts. Please, contact us if your configuration is not listed.
General Information
The Laminova heat exchangers are available in different length and diameters and with or wihout restrictor for the coolant flow. The cooling performance increases with the length and diameter of the cooler
S34 Specific information
The S34 cooler is a compact cooler. It can be used only in low oil-flow cooling applications. The S34 is very well suited for transmissions, rear ends and motorcycle uses.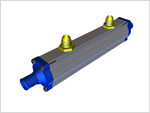 Configure cooler system
Product details
Please, select your configuration from the drop down menus above for product details.